The best screens and placements in DOOH: Power your campaign with the right choice
Technology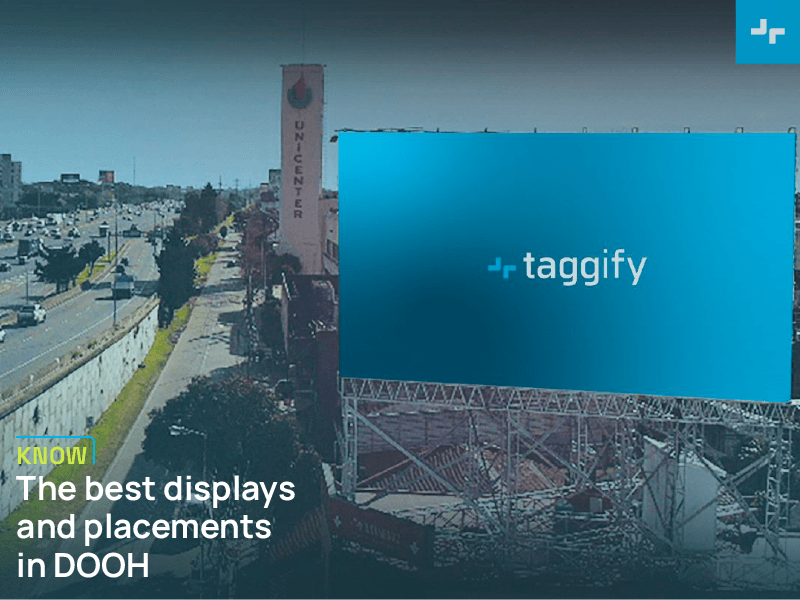 Just as important as the creatives, budget, placements or audience chosen for a campaign is the selection of the right screens. In this article, we take a comprehensive look at each of them, what content you can leverage their full potential with, and which one you should select for your next campaign.
Last update: August 25, 2023
Spectacular premium iconic displays:
These are located in strategic, high-traffic locations, ensuring wide visibility and exposure. They are located in relevant iconic locations in a city, such as famous squares. They are ideal for campaigns that seek to reach a mass audience. Recommended content includes impactful ads, high quality videos and brief but eye-catching messages. Creative and immersive ads are recommended, as well as immersive videos or interactive content.
These large screens are perfect for capturing the attention of pedestrians and drivers in high-traffic areas. They are especially effective for visual advertisements, such as eye-catching images and short, but engaging videos that can get the message across quickly and effectively.
Located on kiosks and totem poles, they are ideal for campaigns targeting local and specific audiences in urban areas. They are especially useful for displaying advertisements important to the environment, such as local store promotions, community events or nearby services.
These are located at the entrance to busy subway stations, allowing them to reach a mass audience every day. They are ideal for ads related to shopping, store promotions or product launches. In addition, interactive content can be very effective in capturing the attention of passersby.
Billboards are large-format placements found along high-traffic areas. They are excellent for generating long distance visual impact and capturing the attention of drivers. For these ads, it is advisable to use eye-catching images, short and clear messages, and simple visuals that can be quickly understood.
They are specifically designed to be placed on roads and highways, and capture the attention of millions of people circulating every day, which makes them an ideal option for campaigns aimed at audiences on the move. It is recommended to use simple but eye-catching content, with short messages that can be read and understood in seconds.
These screens are found in large supermarket chains, where people shop daily, which guarantees a higher purchase intent, in addition to a continuous presence with recurring messages.
Airports are buildings with a permanent circulation of tourists arriving in a country or deciding to travel abroad. In these places, people usually have more time to wait. They are perfect for last-minute announcements, such as travel promotions, transportation services or upcoming events.
Screens in indoor mall spaces are ideal for advertising campaigns that seek to reach an active and receptive shopping audience. Recommended content includes product announcements, exclusive promotions and messages that encourage interaction with the brand.
Street furniture, such as bus shelters or phone booths, and are ideal for campaigns focused on local audiences. Recommended content includes advertisements relevant to the surrounding environment, public service information or community messages.
Video walls are a series of screens that are joined together to create a larger screen and provide an immersive experience. They are ideal for displaying high-quality audiovisual content, such as promotional videos, moving images and powerful messages that can be seen in their full glory.
Choosing the right screens and locations in a programmatic digital out-of-home pDOOH campaign is essential to achieve maximum impact and reach advertising goals. At Taggify you will find a wide variety of options to suit your specific needs. Remember to consider the type of content or ad you want to deliver when selecting the right display, as this will influence the effectiveness and reach of your campaign.